A low-traffic neighbourhood = an area that has been redesigned to provide a better quality of life
Low-traffic neighbourhoods are being created around the world, throughout Europe and right here in Brussels. They are neighbourhoods where quality of life is the priority – for residents, visitors and all those working or staying there. It's about larger and improved public spaces, cleaner air, better safety, more green spaces, less pollution, less noise, less traffic driving through, easier access to public transport and more space for pedestrians and cyclists. In short, it's about creating a more peaceful environment so that people of all ages can enjoy life. However, it's not something we can achieve as if by magic. Low-traffic neighbourhoods are the result of a vision for the city's future, driven by the Good Move regional mobility plan and coupled with local and regional political support. Citizens also need to be involved. The objective of this journey is something new and beautiful. It's about making a neighbourhood a more peaceful place, thanks to adapted traffic management, new infrastructure in public areas and more space for active mobility. During this decade, the Brussels-Capital Region will support the creation of 50 low-traffic neighbourhoods, bringing all those benefits to their residents.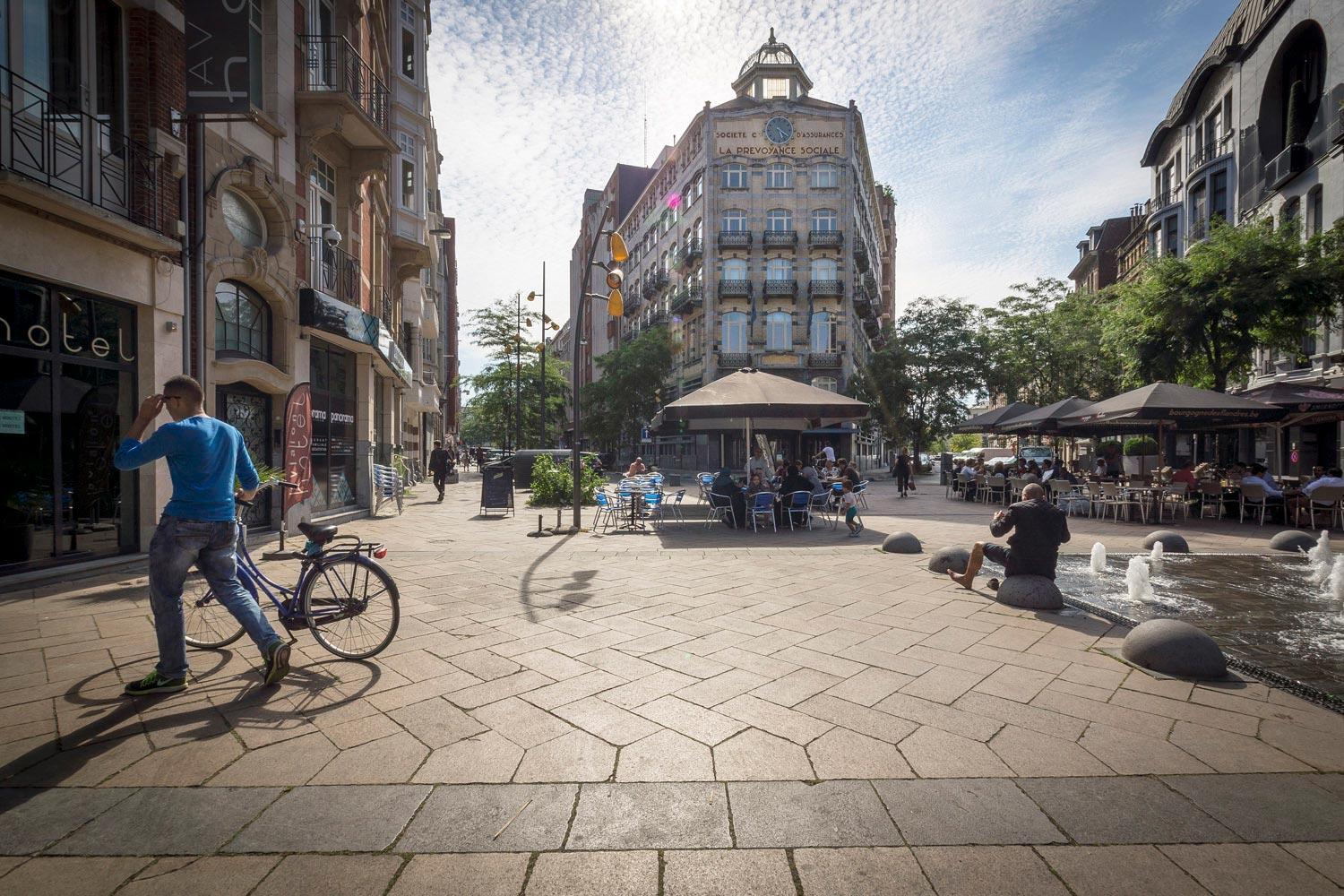 The Good Move plan provides an overall vision
Low-traffic neighbourhoods in Brussels are the result of the Good Move regional mobility plan. The Good Move plan was adopted by the Government of the Brussels-Capital Region on 25th March 2021 after years of collective work since 2016 and public consultation in 2019. The Good Move plan also won the 2020 edition of the "Sustainable Urban Mobility Plan Award" awarded by the European Commission. Now, Brussels Mobility teams are working closely with local communities to progressively implement the plan.
The Good Move plan has set an ambitious, all-embracing goal: making neighbourhoods a more peaceful place to live. The aim is to work with local areas to create large residential zones which are closed to through-traffic, concentrating on the security, quality, use and accessibility of public spaces. It's about creating a pleasant neighbourhood for those who live there, but also for those who travel there using active modes of transport - such as walking and cycling - and public transport, as well as for visitors. Find out more about the Good Move plan's City Vision in the introductory chapter (available in French and Dutch).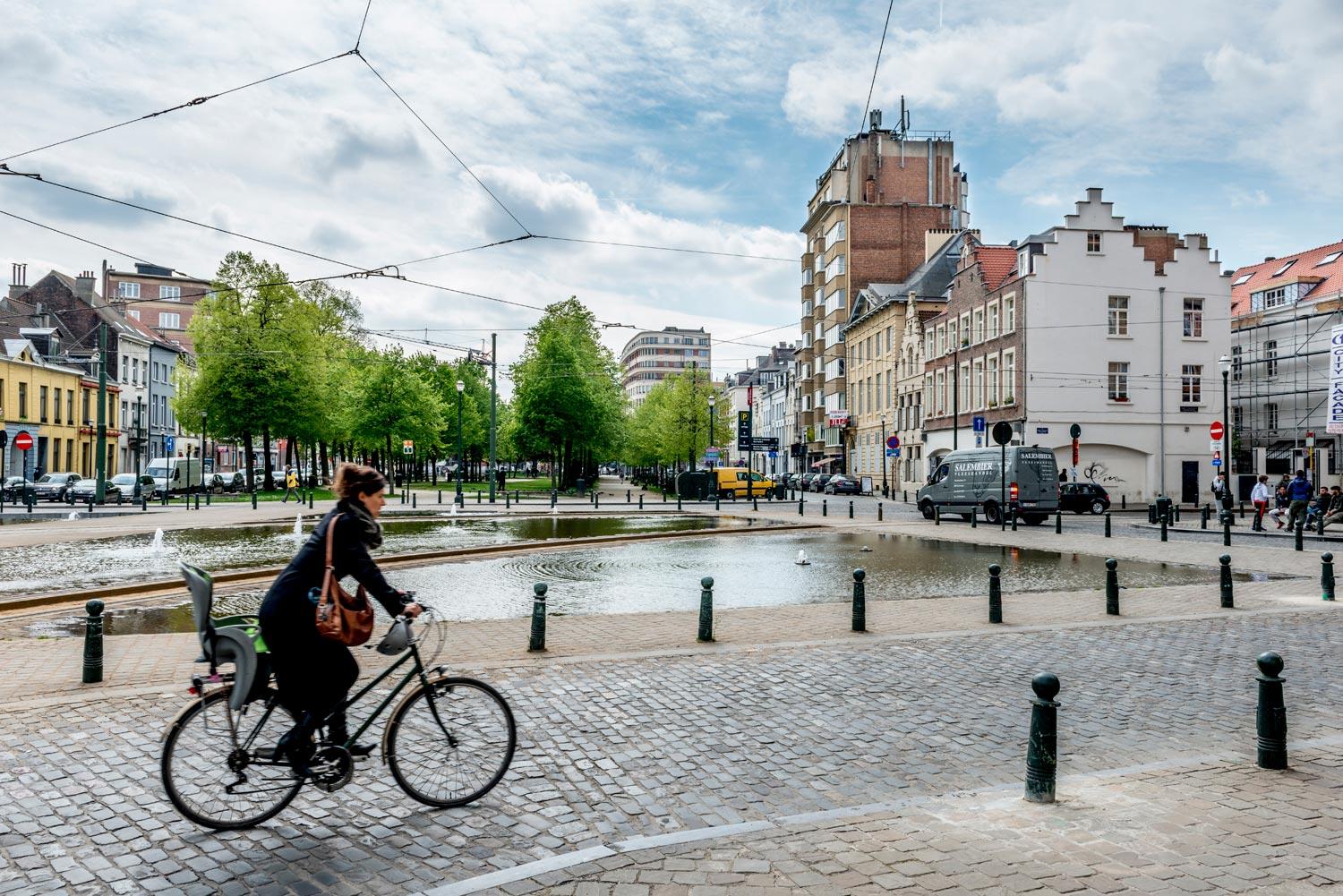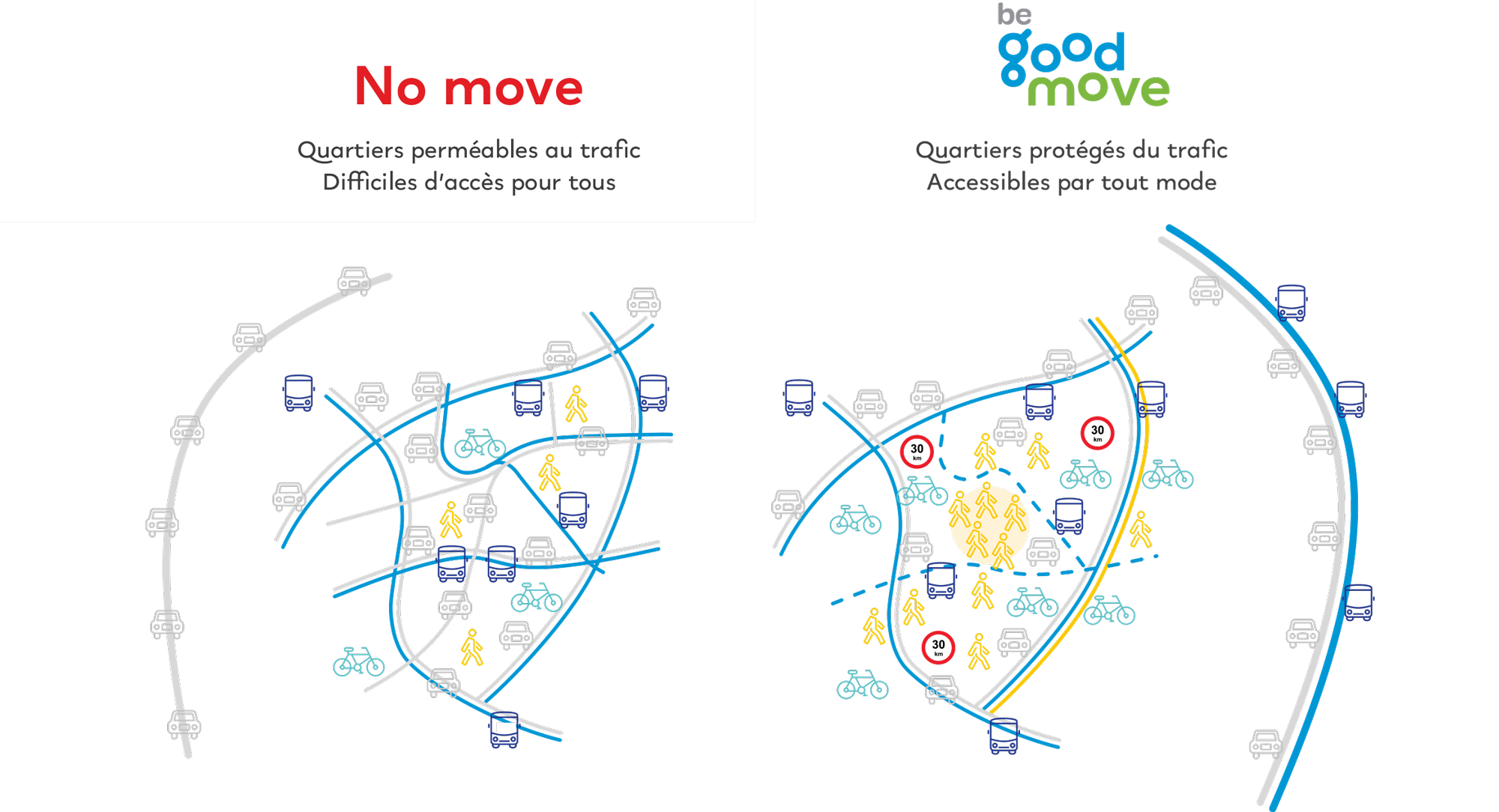 The future
Low-traffic neighbourhoods are not just a vision; they are an ambition that is slowly coming to fruition on a large scale! 50 low-traffic neighbourhoods, of between 1 km² and 2.5 km², will be created in the Brussels region by 2030. The whole region will see liveable neighbourhoods flourish, bringing with them a host of benefits for the entire region: less motorised traffic, less pollution, less CO2, more nature in an urban setting, more social interaction, a more pleasant and safer environment for pedestrians and cyclists. Of course, it will still be possible to travel by car from one neighbourhood to another when needed, via main roads. A city with low-traffic neighbourhoods does not mean that the city is inaccessible for motorised vehicles. It simply means that traffic management changes will keep through-traffic out of these more peaceful neighbourhoods. Residents and visitors will still be able to access areas within the neighbourhood itself, especially to visit local shops and amenities.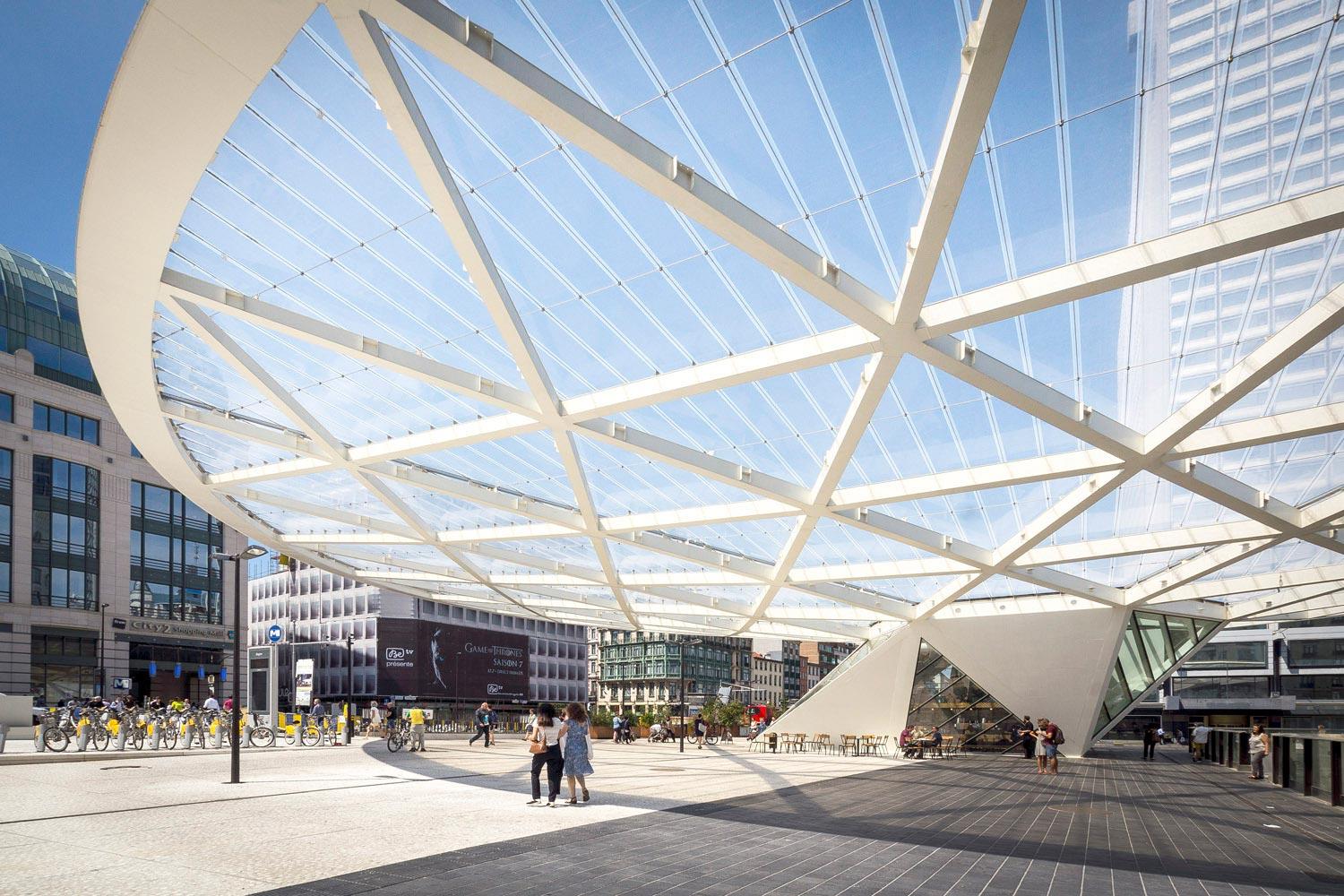 The selection process for low-traffic neighbourhoods
Under the umbrella of the Good Move regional mobility plan, the Brussels-Capital Region has created the framework to develop low-traffic neighbourhoods. 50 potential neighbourhoods have already been identified and now it's up to the communes themselves. Of course, local authorities are crucial to the successful implementation of the mobility plan and can suggest zones or neighbourhoods in which they would like to reduce traffic. On a regional level, Brussels Mobility wishes to select five future low-traffic neighbourhoods every year. These areas can be located on the territory of one commune or can spread across several ones.
Once a low-traffic neighbourhood has been chosen, the planning process can begin. This involves evaluating conditions on the ground and involving people to produce an overview of the current situation and the mobility stakes at play. That's the first step. This work then leads to proposals on how to change traffic management. Once the final traffic plan has been selected, traffic changes can start being implemented and new infrastructure installed in public spaces.
Which neighbourhoods have already been selected to become low-traffic?
Every year, five new neighbourhoods will experience a decrease in traffic thanks to the Good Move regional mobility plan.
The evaluation phase is almost complete for the first five low-traffic neighbourhoods chosen in 2021:
Cureghem (Anderlecht / Molenbeek),
Collignon-Josaphat (Schaerbeek),
Saint-Gilles Parvis (Saint-Gilles / Forest),
Flagey-Etangs (Ixelles / City of Brussels),
Dielegem (Jette / Ganshoren / City of Brussels).
With the support of Brussels Mobility, these communes have started the two-step process: initial exploration of multimodal mobility and the involvement of local citizens. Once they have adopted their new traffic management plan, they can start implementations on the ground. The City of Brussels works in parallel, carrying out the same steps in the city centre (Pentagon).
In 2022, the evaluation phase will begin for the next five neighbourhoods:
Brussels-Neerstalle (Forêt / Uccle),
Roodebeek (Woluwe-Saint-Lambert),
The historic centre of Molenbeek,
The Chant d'Oiseau (Woluwe-Saint-Pierre / Auderghem),
Léopold-Pannenhuis (City of Brussels / Jette).